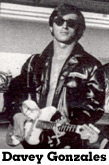 NOW THERE WAS a "we" and we were getting loud and about to get louder. In short order, a second guitarist (Davey Gonzales) who played a mid-60's Fender Stratocaster with his teeth and used a beer bottle to play slide on "Sleepwalk" was added, and the acoustic guitars were traded in for borrowed electric guitars. The top was coming down for our trip down Whittier Boulevard, as nobody copped Thee Midnighters better than Davey.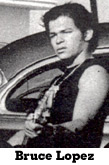 Next, a bass was suggested by our soon to be bass player (Bruce Lopez) as he sauntered past a rehearsal session -- "Hey don't you guys need a bass?" Hmm, I suppose we do, have you got one? Can you play it? Well then you're in". Bruce was an integral student (an accelerated program of serious Classical study) given to serious thought and the chase of hippie chicks, who paradoxically featured himself a regular U.S. Male -- a prodigious babe magnet. Mr. Lucky in motorcycle boots. Bruce promptly joined, shared his magic and played bass at every Glass Pack show from Day One until we broke up as a regular touring road show in 1976.
On our way to Day One, we encountered a small problem, logical when you think back on it -- How do you amplify ten voices to be heard over the racket of drums and electric guitars and bass? We have no money, we own nothing -- no amps, no cables, no cords, no microphones, no mic stands, no P.A. system, no monitors (never even heard of monitors), no mixing board; not even a fuse to our name. Certain things are just meant to be, however, and disaster was averted when a sound man appeared -- classmate Jim Dougherty, a chip off the old genetic block of his father, a NASA engineer then working on the wiring of a communications system for a top-secret space mission. Jim came to the rescue with a roll of electric tape, a pair of wire cutters, a variety of stereo speakers, multiple hi-fi components, and a 2001 Space Odyssey (or was it Clockwork Orange?) Hal-like machine that magically opened the sound gates of Hell and wired the soon to be Glass Packs for an outdoor amphitheatre stage. It is difficult to say who had the more troublesome job, Jim or his father.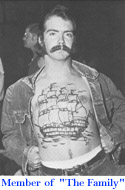 The troupe was growing and the excitement building, as Day One kept getting postponed due to rain, a true act of God that forced us to keep rehearsing. We added more singers (notably Dennis Krueger, rumored to have a metal plate in his head that would overheat when exposed to electrical surges causing him to forget lyrics and feed back the sound system) and dancers to form the pieces of a clock for "Rock Around the Clock", our opening number. To inject the aura of Blackboard Jungle realism, we engaged the services of a "security" escort of a dozen City boy Catholic School thugs known as "The Family" to hassle the crowd - in a good way. "Just be yourselves", was all we asked of them. Meanwhile, Julio (remember Julio? - he caught the first pitch) was finally able to convince three freshman coeds clearly cut out for this kind of work, later to be known as the Whackettes (Teri Godfrey, Teri Aguilar and Kerry O'Hara), to rat their hair, paint their lips, shake, shimmy and join the fun.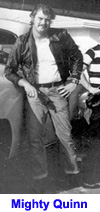 The last aboard the yet unnamed ship of fools for this maiden voyage was that cool breeze from Pacific Palisades, Mr. Southern California with the surfboard racks ironically stuck atop his Dad's white '68 Chevy II Nova (nice Woodie), the Gillis Beach Boy in pro personia, Walter Christian Quinn, Jr. -- the Mighty Quinn. Mighty because Wally didn't just sing, he belted; a frightening sight to behold as he roared "Sea Cruise" like a male Ethel Merman, and twisted and tortured the lyrics to "Guided Missiles" (an undeservedly obscure Doo Wop B side nod to Sputnik, ICBM and the Cold War) into chards of broken heart while the background singers chimed "Zoooom" behind him. Uncle Walty, gone now from the current group, but not forgotten, flew every Glass Pack mission over the coming five years.