BUT HE DIDN'T get the gig. Not a first. Our first choice pitched a shot glass through a Sacramento Nightclub wall mirror on his first and last night, and so we called Mike. As it turned out, Mike had a lot in common with us. Besides his common athletic experience with Larry, he was a classmate of saxman Karl Cheesecake Young at Washington "Fly High Mighty Eagles" High School in San Francisco, and no less a City Boy than any of the Family, (original Glass Packs security staff, see Chapter 1, page 2) as many of his classmates had also hung their colleagues by their cuffs over the Army Street overpass, so his pedigree was impeccable. But first a haircut and a big blue dollop of "Groom and Clean" every night for the next two years.

Soon after Mike and Larry joined, we got the call for what would be the first of three nationally ranked Spring Break parties. Playboy magazine years ago rated college parties across the country; and among top five annually was Chico State's Pioneer Week -- Louie Louie Time. They don't hold Pioneer Week anymore; lets start there. Now that most of us are parents and taxpayers, that's probably a good thing. But when it was celebrated, Pioneer Week was an annual State-sponsored, fraternity organized, no cops party that lasted a full week, and every night was Saturday night, each night a new band, a new pool full of rum and coca cola, a fresh pig to roast. No shit, it is a fact that people broke bones at these parties, and not from fighting, -- but rather from falling off flat bed trucks, doing the funky Gator on asphalt or being thrown into swimming pools fully clothed. This was dangerous fun, roof-diving, keg-tossing Double Shot of My Baby's Love fun, and we, and others more famous than us, supplied the entertainment. Our first year, 1974, we followed Van Morrison, who performed Tuesday night, and preceded Fleetwood Mac who would perform on Thursday night.

A mid- May Wednesday evening in Chico in the Spring is heaven. The night air is warm and smells like honeysuckle. On the ground level of Chico's football stadium is a stage centered at the 50-yard line abutting against the West bleachers. The stage faces across the playing field and looks to the East bleachers. The football stadium holds about 10,000 people. On the night of the show, the West bleachers behind the stage are empty, the East bleachers are packed - that's 5000 souls. The Glass Packs hit the stage and there is a kickoff return for a touchdown howl coming from another 5000 souls standing in front of the stage on the field, a sea of bodies reelin' and rockin'. These kids have been going since noon, they can't hear a thing were playing, and we can't hear ourselves, but who cares? We're making five grand for the night and, Look -- there goes Julio flying off the top of the Sound On Stage sound truck in a classic cannonball tuck - Splat! Right on the roof of the light mans' van below.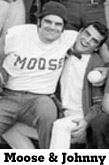 While it remains a blur to those surviving Glass Packs who were there for the first one or at the next two Pioneer Week performance which were no different, one mystical image remains - "Surfer Girl". We came on for an encore and got the crowd of 10,000 to slow dance. And that why we hired our drummer Mike Moore -- because when the heat was on, he sang the opening and ending of that song like an angel.
One Glass Pack who didn't survive was background singer, road manager and best friend to all, Johnny Buick, who began his Glass Pack career at age 19 taking the money and checking fake I.D.'s at the door on Union Street; all the girls got in. (See Party for Friend link) We last sang "Surfer Girl", John's favorite song, at his funeral in 1989. We ought to do that song again in memory of him and Pioneer Week. The two are indelibly linked. The death of our friend at such a young age (36) left us each more like him. We became a tighter, kinder group, and learned to seize the day earlier than most.